THE FUTURE OF YOUR WORKPLACE IS HYBRID
Hybrid Business Phone Systems from Totalconnect extend your in-office phone system to include staff in the office, working from home, or on the road with a mobile phone or laptop. Your staff's devices become an active extension of your office phone system using your office caller ID for outbound calls.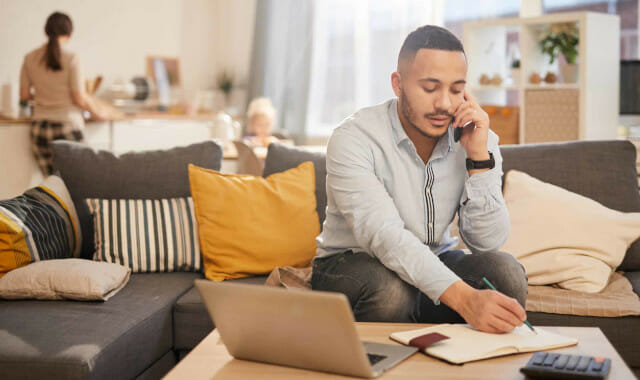 WORK FROM WHEREVER, WHENEVER WITH TOTALCONNECT HYBRID UNIFIED COMMUNICATIONS!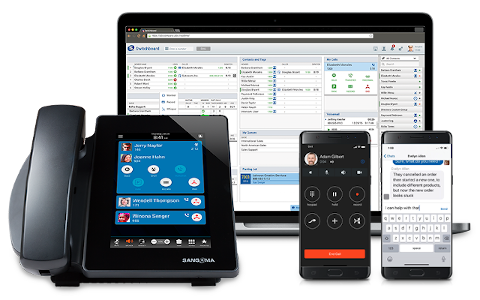 We help you navigate the shift to hybrid work. Extend your in-office phone system to integrate your staff based out of office, working from home, or on the move. Bring them onto one platform connecting their devices – desktops, laptops and mobile phones. Transfer calls seamlessly between office, home, cellphone, or laptop. Integrated communications take place in complete privacy. Your remote users will be using an encrypted in-office extension and not the public carriers.
Your staff can work confidently away from the office as their privacy is ensured with Call Masking. Any calls placed from personal computers, Laptops or Cell phones display your company's main phone number in the outbound CallerID. Ensuring complete privacy for your remote staff.
When your customers call your office and choose extensions to reach your staff, the calls land on your staff's remote devices. Remotely located workforce can receive calls on their personal computer, laptop, cell phone, or even web browsers.
Communication is the key to success in business. Digital adoption curves continue to accelerate during the pandemic and are expected to continue their trajectory in years to come. Your business success depends on your staff being available to your customers whenever they need help. Hybrid work provides your business a strategic opportunity to boost competition and step into the service gap.
Hybrid office PBX – Reimagine People, Procedures, and Places
Sangoma Connect
Your business success depends on your staff being available to your customers whenever they need help. Hybrid work provides your business a strategic opportunity to boost competition and step into the service gap.
Offices are making the shift to hybrid work culture. Our state-of-the-art solutions make the transition straightforward without compromising on efficiency.
Sangoma Connect powered Unified communications solutions (UC) enable your workforce to be more flexible. The solution makes your teams available for your customers.
Every function in your organization can come together to increase your customer engagement, transform products, and reduce operational costs.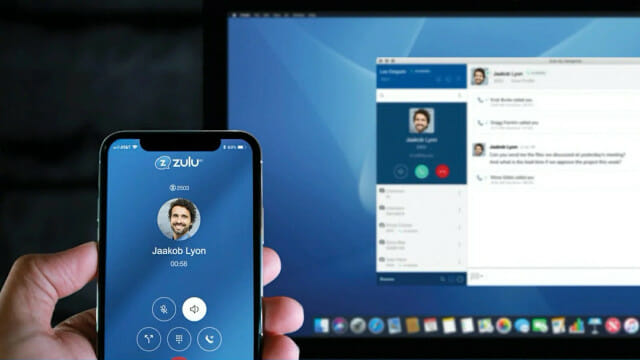 Featured Cloud PBX Solutions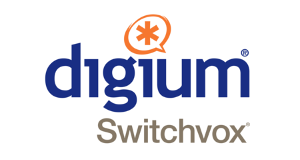 Digium Switchvox - Powered By Sangoma
Totalconnect
Cloud
provides hosting for Digium Switchvox, a Sangoma
Unified Communications
solution. Get an enterprise-level feature-packed
VOIP
business phone system that provides every option your business requires for an up to date, highly technical, yet easy to use, program, and customize system. It has the latest advanced
conferencing
features that enrich collaboration throughout your business. Get your customized
unified communications
deployment with us. Make your shift to hybrid work conducive with Totalconnect solutions.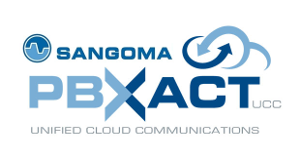 Sangoma PBXAct - Powered By Sangoma
Totalconnect Cloud provides hosting for PBXact, a Sangoma Unified Communications Solution. It is designed for state-of-the-art implementation that requires complex customization and configuration. Support your team to work with flexibility from the
office or remotely with a fully-featured UC platform. Boost team productivity and improve collaboration with a commercially supported unified communications IP-PBX. Get the extensive PBXact features on the hybrid cloud, on-premise, or virtualized for mobility, productivity, and collaboration.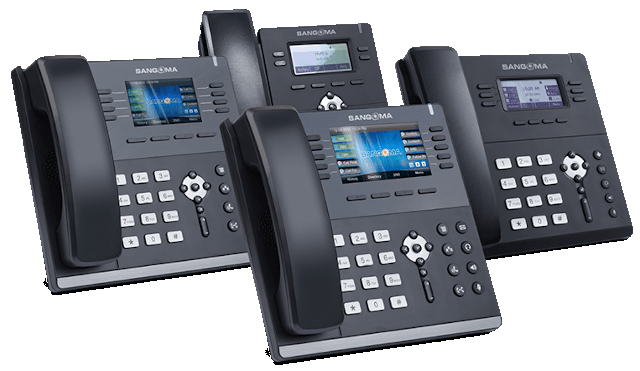 IP Phones
Combine the power of Sangoma IP phones with PBXact, and take advantage of:
Zero Touch provisioning tools such as End Point Manager and Redirection Server
Access productivity features with support for PhoneApps, including hot desking, queue control, and voicemail notifications
A high level of security with built-in VPN
CLOUD VIDEO CONFERENCING
Make the transition of People, Places, and Procedures to remote work easier for you, your business, co-workers, customers, and clients.
Make the transition of People, Places, and Procedures to remote work easier for you, your business, co-workers, customers, and clients.
Hybrid work is revising the way of work for most businesses. As the need for virtual meetings increases, utilize the conference features available with Sangoma's UC solutions. By making use of the modern conferencing experience with Sangoma Connect (insert link) solution you help your co-workers and customers collaborate in an efficient manner. As your team spends most of their day in meetings, pick the right conferencing tools for them.
Your phone extensions can have their individual conference rooms with the Meet-Me Conference Center. Extension owners can even control the audio conferencing experience with announcement options as they get to choose who talks in the conference.
Hybrid working conditions call for an evolved way to communicate and, at the same time, find ways to reduce complexity. Get the power of one-click video calls wherever you are. Connect with your colleagues or friends in the office or work remotely using the hybrid cloud communications.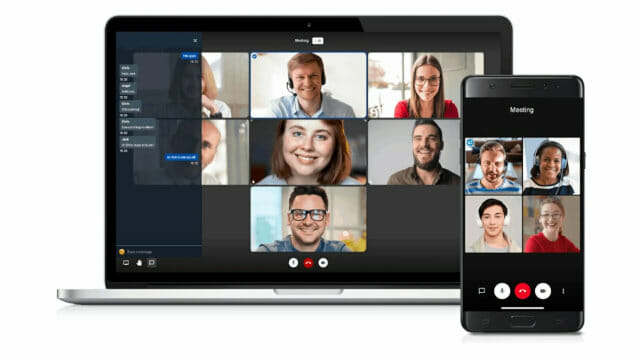 DATA SOVEREIGNTY
Need to meet data storage compliance? With us you can be assured your data stays in Canada.
Data is the lifeblood of every business. The cloud presents the versatile availability of data and virtual resources everywhere your team members travel. Local regulations govern data in a particular region. This can lead to multiple data privacy risks depending on the digital path the data takes as it travels between geographies.
Your Data security is critical and will be even more so with the evolution of hybrid work.
Data sovereignty means that digital data is subject to the laws of the country in which it is located. Data stored in Canada falls within Canadian privacy laws, as well as data that flows only within our borders. Once your data travels outside of Canada's borders it is open to the laws of the land.
With Totalconnect UC Solutions, you are sure that all your sensitive data (including backups) stays safely in high availability data centers safely located on Canadian soil.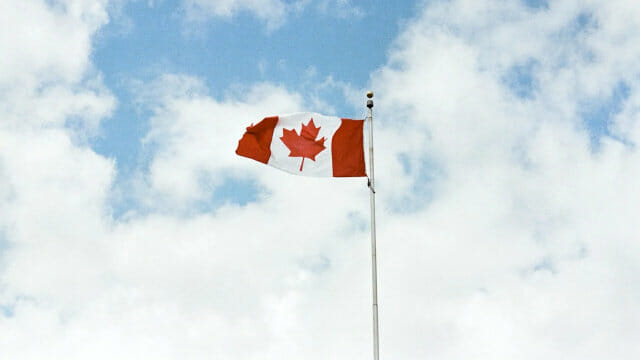 Addon: Secure Call Recording
Atmos – by CallCabinet
Call Recording, Quality Assurance, AI and Analytics
Robust call recording and QA service for all your customer service needs. Provide your
customers the best service experience interacting with your teams. Get the right call recording solution that helps you accurately track success and failure. Make your customer service team more efficient with proper reporting and analytics.
Atmos is a single platform can be scaled easily with licenses and features to suit specific organizational needs.
A flexible Unified Communications as a Service (UCaaS) solution that removes the need to invest in hardware, storage and maintenance. Get the best and most compliant solution for your call recording needs. We support global regulatory compliance with GDPR, PCI, HIPAA, DFA, MADII, ESMA, MiFIDII, UK FCA, US FTC, SOX, FICA, POPI & FAIS.
Encrypted call recordings are stored on Totalconnect Telephone Company Ltd. servers based in Canada.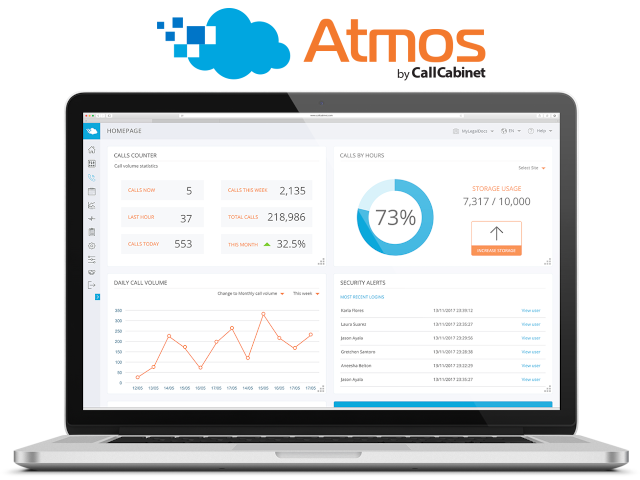 Unified Communications will optimize your business.