Designed Exclusively for PBXact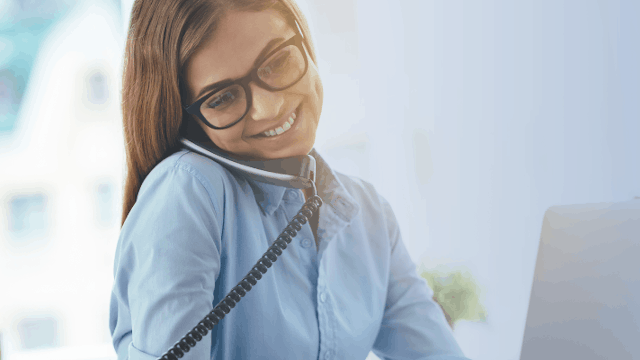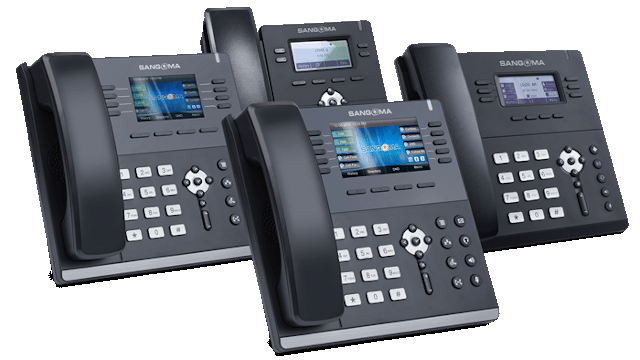 Extend your PBXact system to your desk phone with the Sangoma's S-Series
IP
phones. Customize your complete communications experience whether you're in the office or on the road.
Need help deciding? Our knowledgeable Sales Team can help recommend the right phone for you!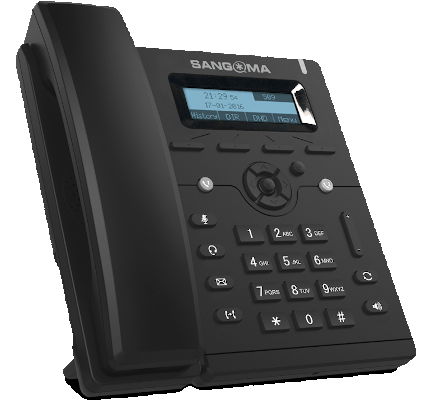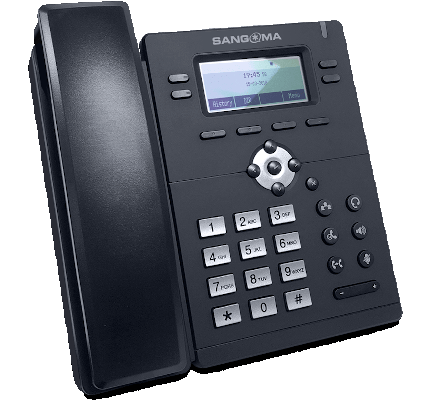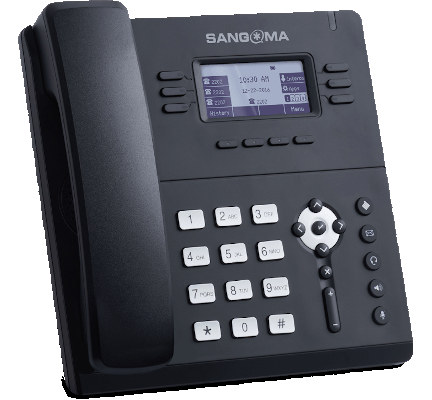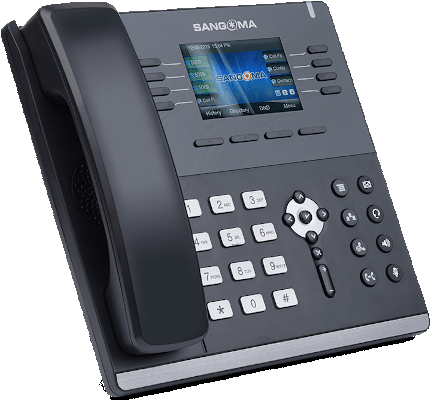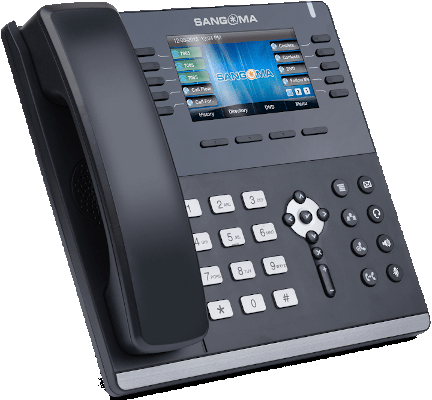 Advantages of S-Series IP Phones
If you have to refer to a sheet of paper or memorize a code to forward your phone or park a call, there's a better way.
Enjoy the Convenience of PhoneApps
PhoneApps are a bundle of advanced applications, which install directly onto your
IP Phone
, converting all your complicated features into easy-to-use visual applications, which you control, directly from the phone's display!
For instance, rather than typing in a feature code for features like 'Do-Not-Disturb', 'Voicemail', 'Call-forwarding' and 'Follow-me', and then listening for confirmation prompts, simply select the programmed button for the application and navigate the display. Each application gets its own customized display, creating the most productive user experience.
We even created PhoneApps for features which were previously only accessible from the phone system, like Presence, Time Conditions, and HotDesking! Empower your users with enhanced features, increasing their productivity, saving time and money.
Open-Vendor Support
PhoneApps are the only software suite on the market that integrates advanced features, not only for Sangoma IP Phones, but for many third-party manufacturers. Some vendors offer their own version of our PhoneApps, but they are only compatible with their own PBX and their IP Phones. This locks you down or forces you to buy new hardware. Keep your current IP Phone with PhoneApps.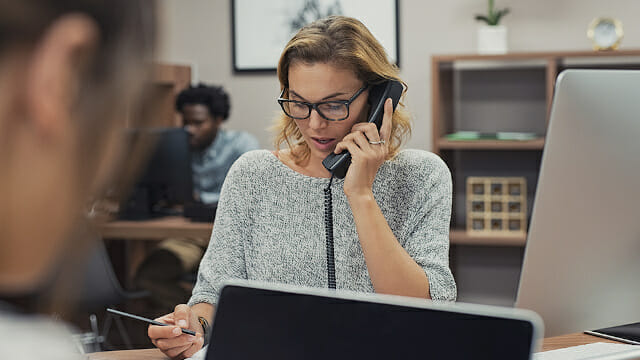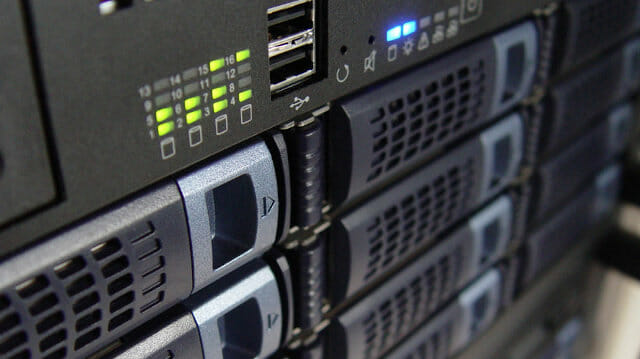 Server Side
PhoneApps are installed on IP Phones, but completely controlled by the PBX (PBXact or FreePBX). This keeps the intelligence of each PhoneApp with the PBX, something very unique that other vendors don't do. Think of PhoneApps as a web-client that resides on the IP Phone, and the PBX as the webserver. The user navigates the Phone's display to use the PhoneApps, but the changes are actually occurring at the PBX.
For example, the Do-Not-Disturb Phone App enables the feature for that user directly on the PBX. So if the phone loses network connectivity, the PBX will know and not forward the phone call. Other Vendors who have 'Do-Not-Disturb' are Local to the phone. In the same example, the call will be forwarded and a possibly a voicemail left on the device.
Advantages to PBXact PhoneApps
Multiple Manufactures
Available for multiple manufactures and dozens of phones.
User Productivity
Instantly improve user productivity by eliminating feature codes.
Free of Charge
Included free-of-charge with Sangoma IP Phones.
Meet the PhoneApps Family
Do Not Disturb
With the Do Not Disturb application from Sangoma, users can quickly and easily set their Do-Not-Disturb status by the touch of a button.
Visual Voicemail
The Visual Voicemail application lets end users easily view all of their voicemails, allowing them to listen to, delete and return calls directly from the screen on their IP Phone.
Login/Logout
The
Login/Logout
application lets users log into any IP Phone by simply typing in their extension number and password. All their details, preferences and custom settings appear automatically, just as if they were using their regular desk phone.
Follow Me
The Follow Me application lets users visually set their follow me status, add additional numbers and adjust the ring and voicemail settings.
Presence
The Presence application allows users to choose a desired Presence status for their extension by navigating the phone's display, and will also update the status across all their end-point devices, such as the User Control Panel or their Zulu
Softphone client
.
Parking
The Parking application lets users visually see parked calls, pick up any parked calls and park calls themselves, simply by navigating the phone's display.
Call Forward
The Call Forwarding application allows users to visually see their call forward settings, select between call forward numbers or enter a new number, all by navigating the phone's display.
Contacts
The Contacts application lets users view all the contacts and groups that are configured in the phone system, directly from the phone's display. They can then search for a specific contact to either view their details or call them up.
Call Flow
The Call Flow application allows users to visually see and toggle through all the active call flows for the phone system, directly from their phone's display.
Conference Rooms
The Conference Room application allows users to easily see a list of available conference rooms, the current participants and have the ability to control them, all by navigating the phone's display.
Queues
The Queue application allows managers to easily view queue information, such as callers waiting, hold time, agents logged in, and even control their states, all by navigating the phone's display.
Transfer to Voicemail
The Transfer to Voicemail application lets users visually see whose voicemail they are transferring the call to, by simply navigating the phone's display and programmable buttons.
Queue Agents
The Queue Agent application allows users to visually see all the different queues they are members of, login or logout of any of them and check their queue status, all by navigating the phone's display.
Time Conditions
The Time Conditions application lets the users see exactly which time condition they are changing and provides a visual status of which one is enabled.
See how affordable Sangoma phones really are!
Zulu Softphone for PBXact
Zulu UC is desktop and mobile integration for businesses using PBXact phone systems, delivering productivity and collaboration tools through a single application which users can install on their Windows or MAC workstations and iOS and Android mobile devices.
Whether using the desktop or mobile app, Zulu allows you to make/receive calls as if you were sitting at your desk. This saves you on mobile phone charges and also hides your person phone number when making outbound calls.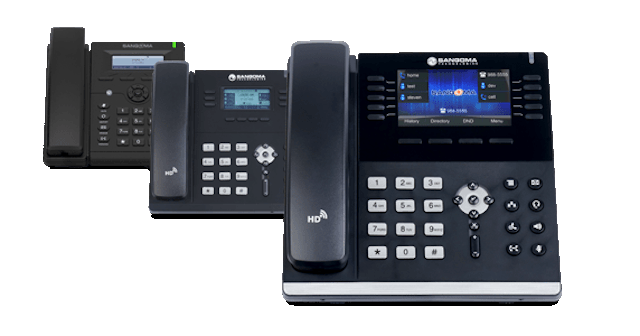 PBXact Phone Rentals
Whether you have existing phones or need to deploy an entire office, Sangoma IP Phones are the perfect choice! Sangoma's IP phone rental program has a variety of models available and gives you full advantage of cost savings & productivity with PBXact Cloud. Deploy the phone that fits your business needs.
Unified Communications will optimize your business.